By age 65, many people are enjoying their retirement years.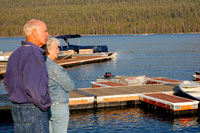 In past generations, people were lucky to live this long.
Today, many people over age 65 have active lifestyles that make the most out of the extended "golden years."
Prolonged lifetimes have decreased the cost of life insurance policies for older individuals.
However, medical conditions may prevent people older than 65 from qualifying for conventional life cover.
Over 65 life insurance policies are designed for people in this age bracket who want affordable life insurance without being subjected to medical qualifications.
Life Cover for the Over 65 Population
Since people are living longer, individuals over age 65 are no longer considered such a high level of risk. Though this tends to reduce the cost of life insurance for this population, health requirements may make this cover unattainable. Policies created specifically for the over 65 population address this issue by eliminating the need for a medical examination.
As long as the individual falls into the qualifying age range and is a UK resident, acceptance is guaranteed. Eliminating the requirement of a medical exam enables people in substandard health to qualify for cover.
As with most other types of life insurance, premiums are based on smoking status, age, and cover level. To decrease their premiums, smokers should quit this habit at least one year before applying for cover. This premium reduction may make it easier to afford a higher cover limit.

The level of cover should be based on expenses resulting from the death of the insured and ongoing expenses including loan payments and a mortgage. Beneficiaries will receive a lump sum when the insured dies, allowing them to repay these debts and satisfy other financial obligations.
Thinking About Future Generations
When people purchase life insurance, they are thinking about future generations, not about themselves. The goal is to provide beneficiaries with enough money to live comfortably until they can be self-sufficient. Though the money may not last forever, it should be enough to prevent the lifestyle from declining.
Whether the individual is leaving behind a spouse, children, or grandchildren, these beneficiaries should not need to tap into their own savings to repay expenses of the estate while maintaining their lifestyles.
If the spouse is also retired, the life insurance payout of an over 65 plan should be enough to cover that individual throughout the golden years. No one wants to be forced out of retirement for financial reasons.
People who became parents later in life may have children who are not yet completely on their own. Financial benefits from a life policy can help people older than 65 take care of their children until the younger generation becomes financially independent.
When considering life insurance over 65 many people think about their grandchildren. They want this generation to take advantage of every opportunity available including attending university and buying a home.
Benefits from this special life insurance policy can make this possible. No matter what happens with the economy, future generations will not need to struggle. To provide two payouts, each parent or grandparent over 65 can purchase an individual policy.
Over 65 Life Insurance Considerations
The initial one or two years of an over 65 life insurance policy is considered a waiting period during which claims will not be approved unless the insured suffers an accidental death. This is an important thing to consider when purchasing this cover.
Some companies provide a level of relief by returning premiums paid up to the date of death. However, this is not universal so consumers should read policy terms and conditions before making a purchase.

With this type of insurance, cover remains in place as long as premium payments continue. If the individual stops making payments, cover will be cancelled and beneficiaries will not receive a payout when the individual dies.
Cancellation of cover does not entitle the individual to a refund of premiums paid and the policy does not have a cash-in value at any time.
People who live 20 to 30 years beyond age 65 may find themselves paying a total premium that exceeds the death benefit, making it important to find the lowest price for cover.
An Easy Way to Purchase an Over 65 Policy
Most people over 65 do not want to spend time and effort researching all the life policies available to them. With the wide disparity in rates between providers, failing to comparison-shop can cost an individual up to 50 percent more than necessary. There is an easy way to compare policies without spending weeks online. Let Genesage scour through the available policies and return rates and information through a single Web page.
To get started, complete our online request form or have a child or grandchild do this. The form is short and simple enough for someone with limited technical skills to use. For consumers who prefer the telephone to the computer, we have experienced customer service representatives available during extended weekday hours and even on Saturdays. If assistance is not available immediately, request a return phone call within a short time.

With Genesage, you receive information from an impartial source and are never pressured to make a purchase. Though we believe that a guaranteed acceptance life insurance policy is the best choice for someone over 65 and our network includes multiple providers, we will never force you to buy any cover.
If you have questions, we will be happy to answer them. Once you have reviewed the quotes provided through our site and decided on a policy, we will assist with the paperwork.
After the insurance provider approves the documents, cover will go into effect. Getting this cover in place today will provide peace of mind tomorrow. By comparison-shopping through Genesage, you will not pay more than necessary for life insurance and loved ones will not suffer financially upon your death.
Life is worth insuring at any age so consider what future generations will need to survive and purchase a guaranteed acceptance life insurance policy to provide it for them in an economical manner.
Extra Resources: