For many people, turning 40 is a reminder that childhood is far behind.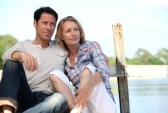 Some people dread this birthday because it marks the permanent entrance to adulthood and the senior years are not far ahead.
Despite these reminders that they should be responsible, many people in their 40s do not own life insurance.
They wait, thinking they will buy it later. Unfortunately, later may be too late for their surviving loved ones, who could be left with huge financial burdens.
Make Life Insurance Over 40 a Priority
Life insurance premiums increase with age and many people find this cover unaffordable once they turn 40. If they do not already have policies in place, they may forego these. Even traditional cover is relatively inexpensive compared to the debts and bills that surviving loved ones may have to pay if an individual dies.
Special life insurance policies designed for people older than 40 have even lower premiums. This makes cover more affordable for anyone over 40 who wants to protect loved ones financially.

Many people older than 40 are the main income generators in their family units so others rely on them financially. When an individual has a spouse or a child, thinking about the future is important. How will the dependent carry on once this income is no longer flowing into the home? If a dependent is unable to get a job due to lack of skills, health, or age, the household could slide into unrecoverable debt.
A lump sum cash payout from a life insurance policy would help survivors keep the household running until living adjustments are made. The payment can be applied to the mortgage, debts, and living expenses. This gives the family time to grieve and take care of the estate without having to worry about finances. Think of a life insurance policy as the final gift you can give to loved ones.
Life Policy Features for People Over 40
Over 50s life insurance is popular in the UK and over 40s cover is structured in a similar way. Many life policies for people over 40 feature guaranteed acceptance, which means that a medical examination is not required. Applicants who meet UK residency and age requirements are automatically approved for cover, regardless of their health. Therefore, even someone with medical issues can qualify for cover. Many companies accept applicants up to 75 or 85 years old and special options are available for those aged 30 and above.
People older than 40 often pay high premiums for conventional life insurance. Policies designed for people in this age bracket are more affordable because they do not include individual risk assessments. Applicants within the accepted age bracket are grouped together in a single category that is used to determine rates. This makes it much easier for people to afford the level of cover they need to provide sufficiently for loved ones.
Some over 40s life insurance plans have another feature that many people find attractive. Policyholders may stop paying premiums at a certain age, usually between 85 and 90, and cover will remain in force until the individual dies. With more people living longer, this can save the household substantial money, which can be saved or invested for additional financial benefit.
Things To Consider Regarding  This Life Insurance Group
Before purchasing these special life insurance policies, people over 40 should be aware of a few things. Most importantly, payout is not guaranteed. The insurance company imposes an initial waiting period, usually the first one or two years of the policy, during which a claim will not be approved.
However, if the insured dies as a result of an accident, this may not apply. In addition, even if a lump sum payout is not approved, the insurance company may refund all premiums paid through the date of death, providing some financial relief.
These special life policies offer lifetime cover but this is also not guaranteed…
The policy will be cancelled if the insured stops premium payments prior to the permitted age. Premiums that have already been paid will not be refunded and beneficiaries will not receive a payout if the individual dies after cover is terminated. It is also important to note that this type of policy does not have a cash-in value.
Some people wait to purchase life insurance so they will not pay a substantial amount over a lifetime. Life expectancies continue to increase so even people who wait until their 40s to buy a life policy may pay premiums for four decades or longer. This could cause total premiums paid to exceed the cash benefit of the policy. To keep costs as low as possible, consumers should shop around to find the highest level of cover at the lowest price.
Over time, inflation will cause the real value of the payout to decline. This should be accounted for when selecting a cover limit for a policy benefitting a minor child. The level of cover should reflect current and anticipated future expenses including university tuition, car loans, and living expenses. If cover remains in force and a benefit is paid, inheritance tax may apply. This should be considered when determining the amount of cover to purchase.
Making Things Easier
It can be difficult to find the most affordable cover because several companies specialise in life insurance for UK residents older than 40. Genesage makes the process much easier because we scan the market for this cover and provide the information needed to make a smart decision.
Policy premium is based on cover limit, age, and smoking status and it remains the same throughout the span of the policy. Our system returns cover details and premiums for policies that match what the consumer is seeking.

After comparing the quotes provided through our site and selecting the most appealing policy, shoppers can apply for cover online. Our representatives are there to help, simplifying what could otherwise be a complex process. Guaranteed acceptance removes the worry of being denied for life insurance over 40, allowing individuals in this age bracket to purchase affordable cover for those they hold near and dear.